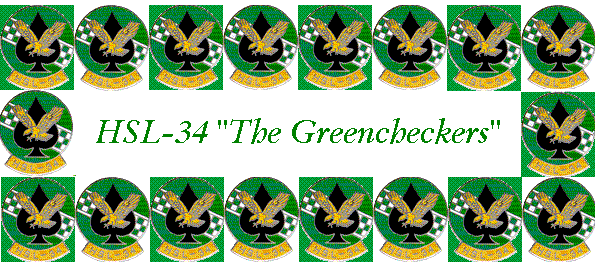 The World Famous HSL-34 "Greencheckers"
Helicopter Anti- Submarine Squadron Light Three Four
Command History
Copied from disestablishment program

"Helicopter Anti-Submarine Squadron Light THREE FOUR was commissioned in official ceremonies at Naval Air Station Norfolk, Virginia on 27 September 1974, under the command of Commander Bruce W. Borgquist. HSL-34 had 42 men and one SH-2F aircraft assigned.

As a LAMPS Squadron, HSL-34 deployed individual aircraft aboard LAMPS capable ships of the U.S. Atlantic Fleet. LAMPS, an acronym for Light Airborne Multi- Purpose System, represents a vital mission for Navy helicopters. LAMPS combines the primary missions of Anti-Submarine Warfare (ASW) and Anti-Ship Surveillance and Targeting (ASST) in a highly capable and versatile aircraft uniquely suited to operate from the small deck environment. In addition, LAMPS also provides gunfire support spotting (NGFS), search and rescue (SAR), MEDEVAC, VERTREP, mine hunting, and utility capabilities.

HSL-34 detachments deployed to the Mediterranean, North and South Atlantic, Eastern Pacific, Indian Ocean, Red Sea, and the Persian Gulf. Each detachment was composed of approximately eleven maintenance personnel, two sensor operators, and four pilots. Detachments functioned as self-sufficient entities and were capable of meeting any maintenance requirements necessary to maintain operational readiness of their aircraft. They functioned as the aviation department aboard the host ship.

HSL-34 employed the SH-2F helicopter, built by KAMAN Aerospace Corporation. The twin engine "Seasprite" is capable of speeds up to 150 knots and carries a crew consisting of two pilots and a sensor operator/aircrewman. To accomplish the LAMPS mission, the SH-2F has been equipped with a sonobuoy deployment and interpretation system, magnetic anomaly equipment, and the capability to carry two MK-46 ASW torpedoes. Additionally, the aircraft can provide tactical early warning and targeting information against threats beyond the range of the ship's sensors by means of radar, electronic support measures, and forward-looking infrared (FLIR).

HSL-34 commenced flight operations on 30 September 1974 and accomplished the first shipboard landing on 6 December of the same year aboard USS TRUETT (FF 1095). HSL-34 formed its first detachments on 17 March 1975. Since that time, HSL-34 has deployed on CGs, DDs, DDGs, FFs, FFGs, ships of the surface amphibious force, and U.S. Coast Guard Cutters.

HSL-34 has enjoyed a history of outstanding leadership and professional excellence. It has been a seven-time recipient of the Arnold Jay Isbell Trophy for ASW excellence (1977, 80, 83, 84, 85, 92). The Battle "E" has been awarded to HSL-34 nine times (1978, 79, 82, 84, 85, 87, 88, 90, 92) and the Chief of Naval Operations (CNO) Safety "S" Award has been awarded six times (1977, 81, 83, 84, 92). Additionally, the squadron defeated all other East Coast LAMPS squadrons to win the inaugural HSLWINGLANT ASW Weapons Proficiency Award in direct head-to-head competition during 1992.

In 1988, HSL-34 earned the honor of being the first LAMPS squadron to receive the Golden Anchor Award for retention excellence. The tradition of excellence continued in the receipt of seven consecutive COMNAVAIRLANT Silver Anchor and Four Consecutive CINCLANTFLT Golden Anchor Awards. In 1992, Greenchecker superstars garnered awards for COMHSLWINGLANT Junior Maintenance Professional of the Year, Wing Sea Sailor of the Year, Wing Pilot of the Year, and Wing Officer of the Year. HSL-34 was also recognized by the Naval Safety Center as the most prolific contributor to APPROACH magazine within the rotary wing community.

The squadron finished flying on 24 September 1993, completing over fifty-five months mishap-free. This feat was accomplished during the busiest flying period in its history. The "GREENCHECKERS" have a legacy of outstanding achievements and all Greencheckers- past and present- are extremely proud of these superb accomplishments. With its disestablishment, the men and women of this fine squadron will move on to other squadrons and communities, and the "GREENCHECKER" tradition of excellence will live on."


HSL-34 was disestablished on 19 November, 1993
HSL-34 Commanding Officers

CDR B.W. Borgquist
27 SEP 74- 02DEC 75

CDR R.L. Johnson
02 DEC 75- 17 DEC 76

CDR S.L. Stevens
17 DEC 76- 11 MAY 79

CDR F.E. Dirren, JR
11 MAY 79- 15 AUG 80

CDR H.L. Clay
15 AUG 80- 20 NOV 81

CDR J.L. Hilgeman
20 NOV 81- 25 MAR 83

CDR J. Baker, JR
25 MAR 83- 27 SEP 84

CDR R.G. Fenn
27 SEP 84- 07 MAR 86

CDR R.T. Zeimer
07 MAR 86- 23 SEP 87

CDR R.H. Dejaegher
23 SEP 87- 09 DEC 88

CDR S.L. Hendrickson
09 DEC 88- 08 DEC 89

CDR P.G. Sherland
08 DEC 89- 05 DEC 90

CDR J.C. Gaudio
05 DEC 90- 11 DEC 91

CDR K.E. Clements
11 DEC 91- 19 NOV 92

CDR G.R. Jones
19 NOV 92- 19 NOV 93


First and Final Flight Crews


First Flight Crew: 30 September 1974


HAC (Aircraft Commander)          CDR B.W. Borgquist

H2P (Second Pilot)                LT J.M. Bailie

NAC (Naval Air Crewman)           AW3 D.E. Fox

 


Last Flight Crew: 24 September 1993



  


HAC (Aircraft Commander)          LCDR J.G. Gallagher

H2P (Second Pilot)                LT M.P. Lalli

NAC (Naval Air Crewman)           AW2 C.D. Kreuz


If you have any additional history items please send date and description of event
 by clicking the mailbox below.

  




Sign My Guestbook


Last Updated: 30 April, 2000